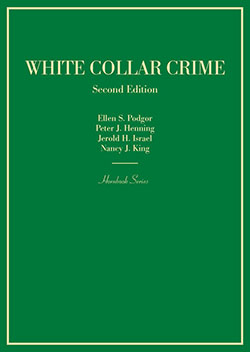 White Collar Crime
Authors: Podgor, Ellen S. / Henning, Peter J. / Israel, Jerold H. / King, Nancy J.
Edition: 2nd
Copyright Date: 2018
Publication Date:

February 28th, 2018

ISBN:

9781634606516

Subject: White Collar Crime
Series: Hornbooks
Type: Hornbook Treatises
Description: Authored by leading academics who bring strong scholarly and practice perspectives to the subject, this book is the first one-volume, in-depth analysis of substantive and procedural aspects of white collar crime. Offenses analyzed include conspiracy, fraud, corruption, RICO, false statements, perjury, tax, currency reporting, bankruptcy, environmental and computer crimes. Procedural issues are addressed in detail, including the grand jury process, agency investigations, parallel proceedings, self-incrimination (testimony and documents), searches, and privileges. In addition to statutes and caselaw, the book covers strategy and DOJ internal guidelines and also includes sentencing of both individuals and corporations in white collar cases. This book is an indispensable guide for students and practitioners alike.