Employment Discrimination Law, Visions of Equality...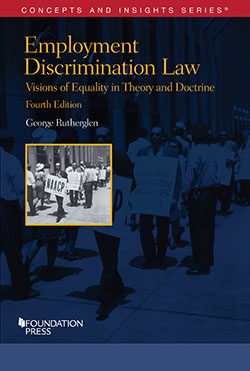 Employment Discrimination Law, Visions of Equality in Theory and Doctrine
Author: Rutherglen, George A.
Edition: 4th
Copyright Date: 2017
Publication Date:

October 31st, 2016

ISBN:

9781634594493

Subject: Employment Discrimination
Series: Concepts and Insights
Type: Hornbook Treatises
Description: This book provides an introduction to the field of employment discrimination law, both at the abstract level of theory and at the concrete level of doctrine. It is as much an introduction for experienced lawyers and scholars who come to this field with a thorough knowledge of other aspects of the law as for law students who have just begun preparing for their careers. The leading decisions of the Supreme Court receive a comprehensive analysis, in terms both of theory and doctrine, putting them in the context of the relevant statutory provisions and other judicial decisions. This book offers three different theoretical perspectives–based on history, economics, and critical social theory–to explain both the complexities and the tensions inherent in existing law.

The new edition of this book addresses several major developments in the field. Liability for retaliation has largely expanded under Title VII and other statutes, some of which do not explicitly prohibit this form of discrimination. The Supreme Court continues to refine the requirement of proof of intentional discrimination in individual cases, relying outside of the main prohibitions in Title VII on a test of "but for" causation. In class actions, the decision in Wal-Mart Stores, Inc. v. Dukes has redefined the circumstances in which a class action can be certified and re-examined how the procedural requirements for certification interact with the merits of the plaintiff's claims. Affirmative action has come under renewed scrutiny in two decisions by the Supreme Court in Fisher v. University of Texas, resulting in ambivalent signals about the standards for assessing the constitutionality of affirmative action plans. The Court's decisions on gay marriage have implications for the coverage of the laws against employment discrimination, as revealed by recent controversies over transgender rights. All of these major developments, and others as well, are covered in the new edition of this book.