Quick Review of Wills, Trusts, and Estates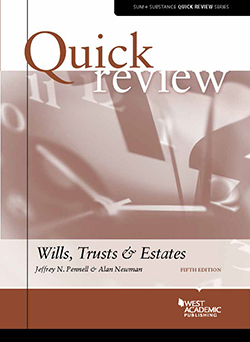 Quick Review of Wills, Trusts, and Estates
Authors: Pennell, Jeffrey N. / Newman, Alan
Edition: 5th
Copyright Date: 2016
Publication Date:

July 5th, 2016

ISBN:

9781634602853

Subject: Trusts and Estates
Series: Quick Reviews
Type: Outlines
Description: This book provides an outline and analysis of Wills, Trusts & Estates, convenient for class or exam preparation. In addition, It provides clear and concise explanations of legal concepts and terms, along with exam hints, strategies, and study tips. Topics covered include intestacy, will execution formalities and contest, revocation, will contracts, will substitutes, construction, restrictions on disinheritance, trust creation and operation, powers of appointment, future interests, planning for incapacity , the Rule Against Perpetuities, wealth transfer taxation, and much more. This title also includes self-testing and diagnostic review questions. Sample essay questions with model answers and detailed explanations are also included.