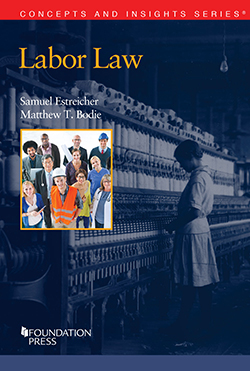 Labor Law
Authors: Estreicher, Samuel / Bodie, Matthew T.
Edition: 1st
Copyright Date: 2016
Publication Date:

December 24th, 2015

ISBN:

9781587787164

Subject: Labor Law
Series: Concepts and Insights
Type: Hornbook Treatises
Description: Appreciating the challenges the system faces in an era of declining unionization rates in private firms and rising competitive forces in labor markets, this one-volume, concise treatise gives students an appreciation of the analytical structure of the law that governs how employees can form workplace organizations and bargain over the terms and conditions of employment. New forms of labor organizing, such as the corporate campaign, card check/neutrality agreements, and worker centers are highlighted. The book is designed to complement leading labor law case books, including discussion of principal decisions featured in those texts, as well as providing both a policy and practical context for what remains a dynamic area of law and social justice.