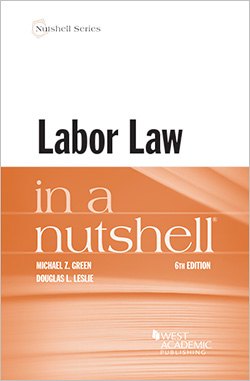 Labor Law in a Nutshell
Authors: Green, Michael Z. / Leslie, Douglas L.
Edition: 6th
Copyright Date: 2022
Publication Date:

June 29th, 2022

ISBN:

9781647087555

Subject: Labor Law
Series: Nutshells
Type: Overviews
Description: This comprehensive guide reviews labor relations law in the United States from its origins to the creation of key statutory protections and the up to date developments of the modern-day National Labor Relations Board (NLRB). Expert commentary offers insight into primary legal issues such as union organizing, picketing, employer responses, the duty to bargain, and enforcement of collective bargaining agreements and their arbitration provisions.