Transnational Litigation In a Nutshell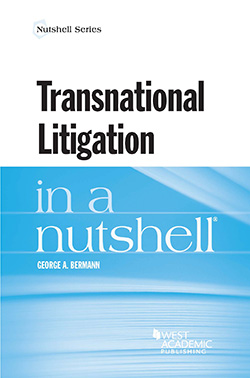 Transnational Litigation In a Nutshell
Author: Bermann, George A.
Edition: 1st
Copyright Date: 2003
Publication Date:

July 14th, 2003

ISBN:

9780314145840

Subject: International - Litigation
Series: Nutshells
Type: Overviews
Description: This title identifies and explores recurring problems caused by private cross-border disputes, while presenting the solutions that appear to be emerging, whether in the form of legislation, case law, treaty or Restatement enumeration. It covers personal and subject matter jurisdiction, parallel litigation, choice of forum, choice of law, extraterritorial discovery, extraterritorial provisional relief, recognition of foreign judgments, pleading, and proof of foreign law. International arbitration is also dealt with, with special emphasis on the role of courts in enforcing international arbitration agreements and effectuating international arbitral awards.