Transnational Civil Litigation: Principles and Pro...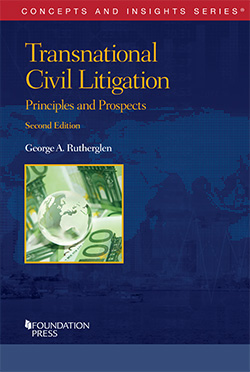 Transnational Civil Litigation: Principles and Prospects
Author: Rutherglen, George A.
Edition: 2nd
Copyright Date: 2022
Publication Date:

December 29th, 2021

ISBN:

9781636595146

Subject: International - Litigation
Series: Concepts and Insights
Type: Hornbook Treatises
Description: This text on transnational civil litigation presents the basic legal doctrine within a larger, illuminating conceptual framework. The book organizes the subject around three basic concepts: national sovereignty, individual rights, and political accountability. After highlighting the unique problems of litigation across national boundaries, the book explores the essential role of individual rights, especially due process and human rights. It then examines the role of the political branches of government in enacting the statutes and treaties that govern transnational litigation. These three concepts play out in the following chapters:


Introductory chapters on jurisdiction in three different senses: personal jurisdiction; prescriptive jurisdiction (especially extraterritoriality); and federal subject-matter jurisdiction.
A chapter on foreign sovereigns as litigants, concerned with sovereign immunity and the act of state doctrine.
Two chapters on procedure in pending cases, one on service of process and discovery, and another on parallel proceedings, concerned with forum non conveniens, stays, and anti-suit injunctions.
Two final chapters addressed to the resolution of disputes, through recognition of foreign judgments and enforcement of arbitration agreements and awards.