A Short & Happy Guide to the MPT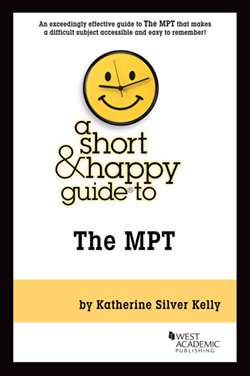 A Short & Happy Guide to the MPT
Author: Kelly, Katherine Silver
Edition: 1st
Copyright Date: 2023
Publication Date:

January 27th, 2023

ISBN:

9781685611156

Subject: Bar Exam Success
Series: Short & Happy Guides
Type: Overviews
Description: The Multistate Performance Test is a standardized test which means it is created and graded based on formulas and patterns. A Short & Happy Guide to the MPT teaches you how to take advantage of this by identifying the basic underlying formulas on which every MPT is constructed and the standard performance expectations. It then shows you how to develop a set of standard strategies, create a process for approaching any MPT, and accurately assess your performance.

A Short & Happy Guide to the MPT not only identifies what skills are tested, but how they are tested, and how you can demonstrate mastery of those skills. By learning the formula, developing an efficient and effective approach that comports with performance expectations, you will be prepared to score high on any MPT and no problem will take you by surprise.