Gilbert Law Summary on Bankruptcy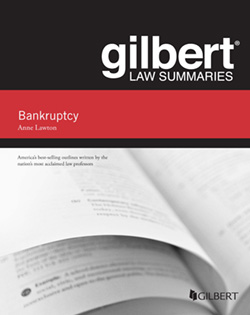 Gilbert Law Summary on Bankruptcy
Author: Lawton, Anne
Edition: 2nd
Copyright Date: 2022
Publication Date:

April 20th, 2022

ISBN:

9781636594781

Subject: Bankruptcy/Creditors' Rights
Series: Gilbert Law Summaries
Type: Outlines
Description: This second edition of Gilbert's on Bankruptcy, an up-to-date overview of bankruptcy law that includes coverage of the new subchapter V, will help you prepare for success in the classroom and on your exam. This study guide begins with a 94-page Capsule Summary, which covers the basics of this complicated subject in brief, and an Approach to Exams, which provides questions to guide your exam preparation for each major topic covered in the study guide. The Capsule Summary and Approach to Exams is followed by a detailed 478-page outline. The Outline contains useful tables comparing key aspects of various chapters of the Code, and several flowcharts designed to help you understand difficult Code requirements, such as the Code's domicile requirement or its Chapter 7 financial eligibility test. More than 270 examples, many drawn from the bankruptcy case law, are used throughout the text to illustrate how to apply the Code's complex language to real-world problems. The Capsule Summary, Approach to Exams, and Outline are augmented by over 130 yes/no and true/false short-answer questions, and five multi-part essay questions, which will help you reinforce and test your knowledge. Correct answers—along with insightful explanations—are included for both the short-answer and sample essay questions.