Sum and Substance Audio on Criminal Procedure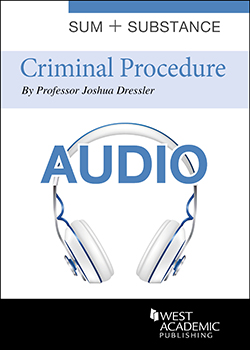 Sum and Substance Audio on Criminal Procedure
Author: Dressler, Joshua
Edition: 8th
Copyright Date: 2022
Publication Date:

February 15th, 2022

Subject: Criminal Procedure
Series: Sum and Substance Audio
Type: Audio
Description: This audio lecture covers the most important issues raised in a constitutional criminal procedure course relating to police practices. The lecture focuses on the Fourth, Fifth, Sixth, and Fourteenth Amendments and covers many issues, such as the meanings of the Fourth Amendment terms "search," "seizure," and "probable cause," analysis of the exceptions to the search warrant requirement, and the doctrines of standing and the exclusionary rule. The lecture also covers police interrogation law as covered by the due process, self-incrimination, and right to counsel provisions of the Constitution, as well as the landmark Miranda v. Arizona decision. Also covered in the lecture are eyewitness identification procedures, the incorporation doctrine, and the right to counsel at trial.