Public Health Law in a Nutshell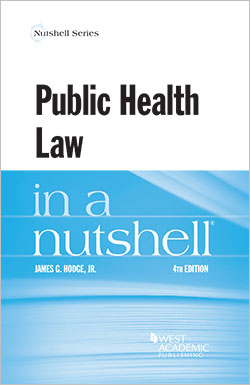 Public Health Law in a Nutshell
Author: Hodge Jr., James G.
Edition: 4th
Copyright Date: 2022
Publication Date:

November 8th, 2021

ISBN:

9781636593586

Subject: Clinics and Externships
Series: Nutshells
Type: Overviews
Description: Public Health Law in a Nutshell, 4th Edition provides a compelling and informative assessment of the critical role of law in American society to protect the community's health, a theme punctuated by the COVID-19 pandemic. Understanding the field of public health law encompasses its constitutional sources and limits as well as historic and modern attempts to regulate in the interests of public health and safety. This new edition of the Nutshell explains and addresses these issues within a modern framework supporting the role of law toward improved health outcomes in routine and emergency applications. Updated to reflect key developments through the COVID-19 pandemic in mid-2021, the Nutshell's 12 chapters and 150+ graphics, illustrations, and figures lay out definitive legal issues underlying core public health powers to prevent and control communicable and chronic conditions as well as injuries and related deaths. It also explores legal routes to counter other public health threats, including tobacco and alcohol use, guns, vehicles, and defective products. Additional chapters center on difficult trade-offs related to public health information surveillance and privacy, commercial speech regulation, zoning and the built environment, and emergency legal preparedness generally. The all-new Chapter 12 centers on the dynamic legal and policy issues implicated during the COVID-19 pandemic, the most impactful public health crisis in U.S. history. This edition of the Nutshell is a "must read" and "go to" resource text for thousands of legal or public health practitioners in the field, law- and policy-makers, and collegiate or graduate students in schools of law, public health, or medicine assessing these issues as part of their coursework or research interests.