A Short & Happy Guide to Criminal Procedure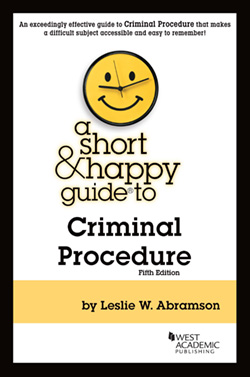 A Short & Happy Guide to Criminal Procedure
Author: Abramson, Leslie W.
Edition: 5th
Copyright Date: 2021
Publication Date:

October 11th, 2021

ISBN:

9781636592824

Subject: Criminal Procedure
Series: Short & Happy Guides
Type: Overviews
Description: This Short and Happy Guide makes the law about police practices and criminal trial proceedings accessible and easy to remember. Learn the key points of search and seizure law, police interrogation, the right to counsel, the exclusionary rule, pretrial release, grand jury investigations, joinder, criminal discovery, plea bargaining, jury trials, pretrial publicity, double jeopardy, appeals, and post-conviction standards. Dominate your classes in Criminal Procedure and your skills courses in Trial Advocacy!