Principles of Trademark Law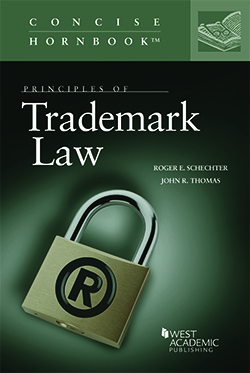 Principles of Trademark Law
Authors: Schechter, Roger E. / Thomas, John R.
Edition: 1st
Copyright Date: 2021
Publication Date:

December 7th, 2020

ISBN:

9780314147523

Subject: Intellectual Property
Series: Concise Hornbook Series
Type: Hornbook Treatises
Description: This new volume hits the sweet spot of thorough and thoughtful coverage of trademark law without bogging readers down in minutiae and a blizzard of footnotes. Professors Schechter and Thomas, authors of multiple texts on IP law, have enlivened this volume with crisp prose, clever examples, and touches of humor. Materials on licensing and assignments, online trademark issues, and international topics augment the traditional discussion of trademark acquisition, validity, infringement, and dilution. The book would work well for end-of-semester review or as a supplementary text with, or substitute for, the usual casebook and will serve as a useful reference work for practitioners long after the course is over.