Quick Review of Federal Estate and Gift Taxation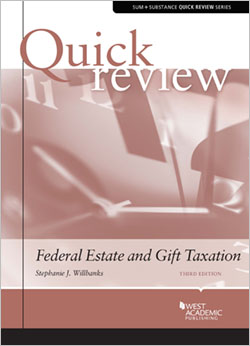 Quick Review of Federal Estate and Gift Taxation
Author: Willbanks, Stephanie J.
Edition: 3rd
Copyright Date: 2020
Publication Date:

September 8th, 2020

ISBN:

9781647080921

Subject: Taxation
Series: Quick Reviews
Type: Outlines
Description: Designed to make the study of federal estate and gift taxation simple, clear, and convenient, this updated third edition provides a basic explanation of the federal gift, estate, and generation-skipping transfer taxes. Written to facilitate an understanding of the overall structure of these taxes, the text discusses critical statutory provisions as well as relevant regulations and important cases. Topics include: valuation, the definition of a gift, the gift tax requirement of completion, the annual exclusion, the gross estate, estate tax deductions, and the generation-skipping transfer tax.