The Law of Corporations in a Nutshell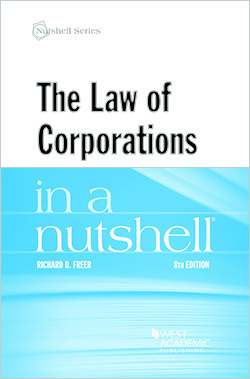 The Law of Corporations in a Nutshell
Author: Freer, Richard D.
Edition: 8th
Copyright Date: 2020
Publication Date:

August 18th, 2020

ISBN:

9781684672394

Subject: Business Organizations
Series: Nutshells
Type: Overviews
Description: Completely revised and updated, conversational in tone, the book summarizes all major forms of business, not simply the corporation. It features numerous examples to illustrate key concepts. Comprehensive yet concise, it addresses the theory of the firm, including the emergence of greater concerns for constituencies other than shareholders, as well as the nuts-and-bolts of corporate law. It offers separate consideration of specialized issues raised in closely-held and public corporations. With updated discussion of recent case law, particularly about controlling shareholders and takeovers, the book offers detailed comparison of Delaware and other leading corporate law legislation. The book also covers relevant federal law, including Sarbanes-Oxley, Rule 10b-5, and Section 16(b). Financial and accounting concepts are explained with helpful examples, so that even sociology majors need not fear them.