Exam Pro on Professional Responsibility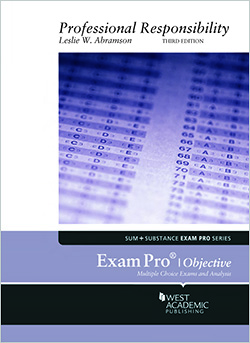 Exam Pro on Professional Responsibility
Author: Abramson, Leslie W.
Edition: 3rd
Copyright Date: 2020
Publication Date:

August 17th, 2020

ISBN:

9781647083847

Subject: Professional Responsibility/Ethics
Series: Exam Pro Series
Type: Exam Prep
Description: Helping law students score higher on law school tests, the Exam Pro Series offers sample exams and corresponding answers with detailed analysis. Each Exam Pro title is authored by a leading law professor and recognized expert in an area of law and contains multiple choice and essay questions based on current court decisions. Detailed explanations for each answer describe the best possible choice as well as red herring answers, which helps increase law student understanding of a topic and build exam skills.
Click the button below to launch an interactive experience using the multiple-choice questions and answers from this book.