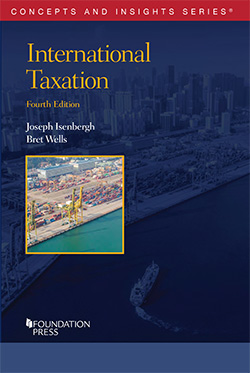 International Taxation
Authors: Isenbergh, Joseph / Wells, Bret
Edition: 4th
Copyright Date: 2020
Publication Date:

December 5th, 2019

ISBN:

9781684673636

Subject: Taxation
Series: Concepts and Insights
Type: Hornbook Treatises
Description: This helpful study aid updates international aspects of tax systems originating in national environments. It focuses on U.S. taxation as applied to economic activity with an international element. The Fourth Edition is divided into three sections: common elements of international taxation for both inbound and outbound taxation, inbound U.S. taxation, and outbound U.S. taxation. Special attention is focused on base erosion and profit shifting strategies and the resulting complexity that has been added to the U.S. tax regime to address this phenomenon in the inbound and outbound context. This new offering is from the Concepts and Insights Series and is designed as recommended reading to complement casebook instruction.