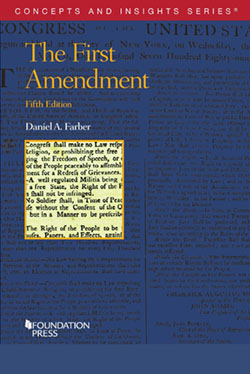 The First Amendment
Author: Farber, Daniel A.
Edition: 5th
Copyright Date: 2020
Publication Date:

October 23rd, 2019

ISBN:

9781684672509

Subject: First Amendment
Series: Concepts and Insights
Type: Hornbook Treatises
Description: Written by a leading national scholar, Farber's coverage of the First Amendment is clear and incisive. All of the major areas of this complex doctrine are reviewed, including the religion clauses. The text also probes theories of free speech and debates over controversial issues such as campaign finance, hate speech, and religious exemptions. The new edition covers recent Supreme Court decisions dealing with the use of free exercise claims as a defense in discrimination cases, the elimination of mandatory fees to support public employee unions as a violation of free speech, and the right of convicted sex offenders to access online social media.