A Short & Happy Guide to Constitutional Law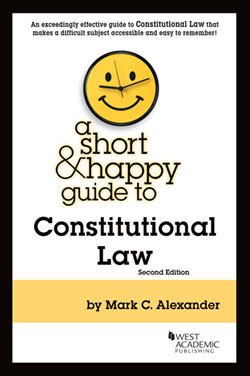 A Short & Happy Guide to Constitutional Law
Author: Alexander, Mark C.
Edition: 2nd
Copyright Date: 2019
Publication Date:

May 13th, 2019

ISBN:

9781642422474

Subject: Constitutional Law
Series: Short & Happy Guides
Type: Overviews
Description: This efficient book takes the complex subject matter of Constitutional Law and makes it easier to understand and digest. World-renowned Villanova Law Dean and Professor Mark Alexander carefully explains the key concepts involved in Con Law and also brings it home with straightforward explanations of why you are reading and discussing the cases you are assigned every day. The subject matter runs the gamut from Marbury v. Madison and the structural side of the course to Due Process and Equal Protection. In addition, he provides exam-taking tips, and general words of guidance on how to make it through law school, and beyond, to a rewarding legal career.