International Criminal Law in a Nutshell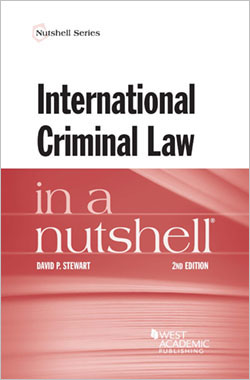 International Criminal Law in a Nutshell
Author: Stewart, David P.
Edition: 2nd
Copyright Date: 2019
Publication Date:

April 8th, 2019

ISBN:

9781640205987

Subject: International Criminal Law
Series: Nutshells
Type: Overviews
Description: The Nutshell is intended as an introduction for students taking a first course in international criminal law as well as practitioners with little or no familiarity with the field. After a brief introduction to the history of international criminal law (from its origins through Nuremburg to the ad hoc tribunals for the Former Yugoslavia and Rwanda), it summarizes basic principles of international accountability (such as the doctrine of "legality") and concepts of international criminal jurisdiction (including "universal" jurisdiction). Several chapters focus on the International Criminal Court, in particular its substantive jurisdiction (genocide, crimes against humanity, war crimes and aggression), modes of liability and available defenses. Additional chapters cover the purposes and procedures of extradition (and its alternatives, such as "rendition") and mutual legal assistance (obtaining evidence abroad for use in criminal cases). Attention is also given to the major "transnational crimes," including terrorism, corruption, trafficking and organized crime. The book is written so that readers will not require prior experience in the field of international law.