A Short & Happy Guide to the Bar Exam's Multistate...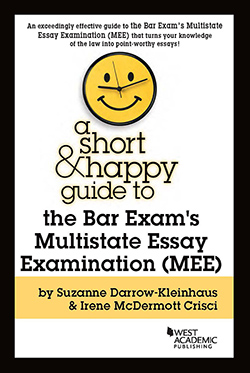 A Short & Happy Guide to the Bar Exam's Multistate Essay Examination (MEE)
Authors: Darrow-Kleinhaus, Suzanne / Crisci, Irene McDermott
Edition: 1st
Copyright Date: 2019
Publication Date:

February 26th, 2019

ISBN:

9781683288572

Subject: Bar Exam Success
Series: Short & Happy Guides
Type: Overviews
Description: A "Short & Happy Guide to the MEE" is shorter than other books on the bar exam because its sole focus is the Multistate Essay Examination. It is a one-source resource for what you need to maximize your performance on the MEE—not a generic essay writing guide, but a treasury of information, issue identification, and subject area frameworks tailored specifically for the MEE. This book is not intended to replace a bar review course for the substantive law you need to know to pass the bar exam. However, a bar review course does not show you how to turn the law into point-worthy essays. We do.

We teach you everything that you need to know about preparing for and taking the MEE to achieve the highest possible essay scores, beginning with how to use the individual Subject Charts (organized by MEE subject) and Table of Issues (organized by bar administration). These charts identify every issue and sub-issue tested on the MEE over the past 14 years, thus letting you see the frequency of tested topics and gain familiarity with how they are tested. When combined with our unique strategies for writing under timed conditions, developing a well-organized answer, and writing a solid analysis, you are ready to write your way to bar passage.