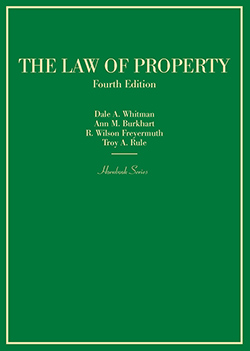 The Law of Property
Authors: Whitman, Dale A. / Burkhart, Ann M. / Freyermuth, R Wilson / Rule, Troy A.
Edition: 4th
Copyright Date: 2019
Publication Date:

January 22nd, 2019

ISBN:

9781640202375

Subject: Property
Series: Hornbooks
Type: Hornbook Treatises
Description: Trustworthy and modern source on property laws surveys estates in land—present, future, and concurrent, comparable interests in personalty, landlord and tenant law, and rights against neighbors and other third persons. Also examines easements and profits, running covenants, governmental controls on land use, land contracts, conveyances, titles, and recording systems. Contains footnote citations to leading court decisions for easy location of primary authority.