Admiralty and Maritime Law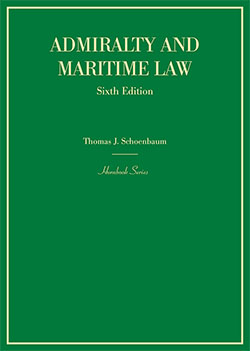 Admiralty and Maritime Law
Author: Schoenbaum, Thomas J.
Edition: 6th
Copyright Date: 2019
Publication Date:

November 1st, 2018

ISBN:

9781634596886

Subject: Admiralty
Series: Hornbooks
Type: Hornbook Treatises
Description: This Hornbook is a handy, streamlined one-volume abridgement of Schoenbaum's comprehensive Practitioners' treatise on Admiralty and Maritime Law. The Hornbook covers the essential topics of jurisdiction, admiralty rules and practice, maritime torts, seamen's remedies, maritime workers' compensation, carriage of goods by sea in international trade, charter parties, towage, pilotage, salvage, collision and limitation of liability. Ideal for students and those wanting an introduction to this important field of law, this book places emphasis on the international aspects of maritime law. For this edition the author has reorganized and rewritten most of the sections as well as added important new sections. Every effort was made to analyze and cite every new and recent case on admiralty law up to the time of publication. This work is generally regarded as the definitive academic work on admiralty and maritime law.