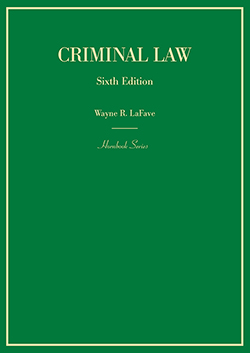 Criminal Law
Author: LaFave, Wayne R.
Edition: 6th
Copyright Date: 2017
Publication Date:

June 30th, 2017

ISBN:

9781683288817

Subject: Criminal Law
Series: Hornbooks
Type: Hornbook Treatises
Description: Major emphasis is placed on the basic premises of criminal law, including its sources and general limitations. This Hornbook provides detailed discussion on the topics of responsibility, justification and excuse, inchoate crimes, accomplice, and liability. Attention is also given to subjects such as causation, insanity, and conspiracy.