Principles of Criminal Law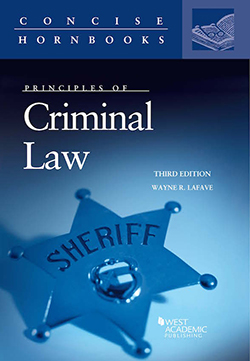 Principles of Criminal Law
Author: LaFave, Wayne R.
Edition: 3rd
Copyright Date: 2017
Publication Date:

February 17th, 2017

ISBN:

9781683285359

Subject: Criminal Law
Series: Concise Hornbook Series
Type: Hornbook Treatises
Description: Expertly written to provide comprehensive coverage of the most crucial issues in a course, the Concise Hornbook Series features concise analyses by prominent scholars of basic areas of the law. The Series focuses on core principles and concepts fundamental to understanding the subject matter. LaFave's Principles of Criminal Law provides detailed discussion on the topics of responsibility, justification and excuse, inchoate crimes and accomplice liability. The book also gives attention to subjects such as causation, insanity and conspiracy.