Litigation with the Federal Government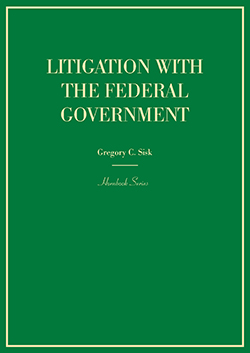 Litigation with the Federal Government
Author: Sisk, Gregory C.
Edition: 1st
Copyright Date: 2016
Publication Date:

April 19th, 2016

ISBN:

9781634592987

Subject: Litigation Federal Government
Series: Hornbooks
Type: Hornbook Treatises
Description: Any lawyer who practices regularly in the federal courts will encounter the federal government as a party and will learn, as the Supreme Court warned nearly 60 years ago, that the United States is not "just another private litigant." The federal government is a party, as plaintiff or defendant, to between one-fifth and one-quarter of all civil cases in the federal courts, including such special tribunals as the Court of Federal Claims and the Court of Appeals for Veterans Claims. The federal government (and its employees) may be protected by sovereign or official immunities, assert special defenses, and enjoy certain exceptions from liability. Federal government cases often involve issues central to the lives of many people, such as claims involving personal injury under the Federal Tort Claims Act; civilian and employee military claims under the Civil Service Reform Act and Tucker Act; governmental expropriation of property under the Tucker Act; and contractual obligations under the Contract Disputes Act; Bivens constitutional claims against federal officers; and claims for attorney's fees under such unique statutes as the Equal Access to Justice Act.