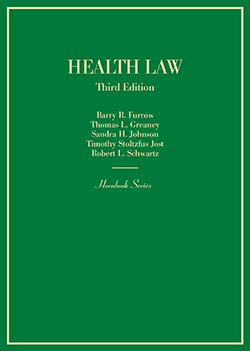 Health Law
Authors: Furrow, Barry R. / Greaney, Thomas L. / Johnson, Sandra H. / Jost, Timothy Stoltzfus / Schwartz, Robert L.
Edition: 3rd
Copyright Date: 2015
Publication Date:

November 14th, 2014

ISBN:

9780314289070

Subject: Health Law
Series: Hornbooks
Type: Hornbook Treatises
Description: Expert authors present an up-to-date overview of health law as it affects the professionals, institutions, and entities that deliver and finance health care in the United States. Considers the law's response to quality and error through institutional and professional regulation, and malpractice litigation against professionals, hospitals, and managed care organizations. Surveys tax, corporate, and organizational issues. Explores the government's efforts to control costs and expand access through Medicare and Medicaid. Examines government attempts to police anticompetitive activities, fraud, and abuse. And considers the legal and ethical issues involving death, human reproduction, medical treatment decision making, and medical research. The Affordable Care Act, HIPAA, HITECH, and other new statutory and regulatory changes of the past few years are thoroughly incorporated in all aspects of the legal discussion.