Estates, Future Interests and Powers of Appointmen...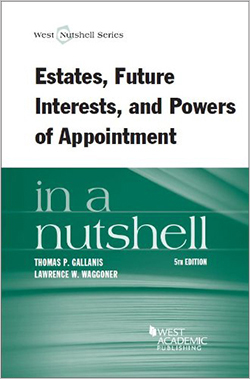 Estates, Future Interests and Powers of Appointment in a Nutshell
Authors: Gallanis, Thomas P. / Waggoner, Lawrence W.
Edition: 5th
Copyright Date: 2014
Publication Date:

October 25th, 2013

ISBN:

9780314290960

Subject: Property
Series: Nutshells
Type: Overviews
Description: This comprehensive guide provides an overview of the rules and principles of estates and future interests, including concurrent estates, marital estates (including the modern elective share), and powers of appointment. It includes new innovations from the Restatement 3d of Property, modernizing the law of future interests and dramatically changing the Rule Against Perpetuities. The book is also the very first publication to incorporate the new Uniform Powers of Appointment Act (2013). The book also has exercises, with answers at the back. Valuable for students in first-year Property and upper-year courses in Trusts and Estates.