Trade Secret Law in a Nutshell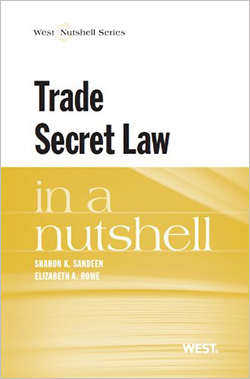 Trade Secret Law in a Nutshell
Authors: Sandeen, Sharon K. / Rowe, Elizabeth A.
Edition: 1st
Copyright Date: 2013
Publication Date:

August 6th, 2013

ISBN:

9780314281166

Subject: Intellectual Property
Series: Nutshells
Type: Overviews
Description: Trade Secret Law is the first and only book in the Nutshell series to cover trade secret law in depth. It was written as a companion to Cases and Materials on Trade Secret Law by Rowe and Sandeen (the first casebook on trade secret law), but adds more practical advice. Thus, it is a useful resource for attorneys and law students alike. It could be a supplement to a course on trade secret law or an IP survey course that covers trade secret law, as most now do. Like the casebook, it focuses on the predominate law governing trade secrets in the U.S.: The Uniform Trade Secrets Act (now applicable in 47 of 50 states). Trade Secret Law in a Nutshell addresses both international and criminal enforcement of trade secret rights. In February of 2013, President Obama issued a report calling for increased enforcement of trade secret rights, both domestically and internationally, making the topic both current and relevant.