Exam Pro Objective Questions on Property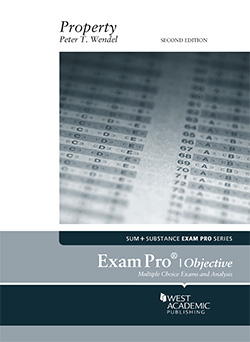 Exam Pro Objective Questions on Property
Author: Wendel, Peter T.
Edition: 2nd
Copyright Date: 2007
Publication Date:

October 5th, 2007

ISBN:

9780314180704

Subject: Property
Series: Exam Pro Series
Type: Exam Prep
Description: This study aid presents eight examinations pertaining to property rules and their application. The book contains 200 objective questions; all are actual final exam questions being released for the first time. Each exam consists of 25 objective problems and includes tear-out answer sheets to simulate exam conditions. The accompanying answers and detailed analysis foster a better understanding of each rule and how to apply it.
Click the button below to launch an interactive experience using the multiple-choice questions and answers from this book.