Oil and Gas Law and Taxation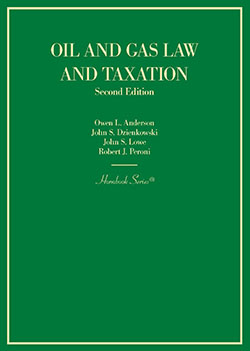 Oil and Gas Law and Taxation
Authors: Anderson, Owen L. / Dzienkowski, John S. / Lowe, John S. / Peroni, Robert J.
Edition: 2nd
Copyright Date: 2024
Publication Date:

December 11th, 2023

ISBN:

9798887864969

Subject: Oil and Gas Law
Series: Hornbooks
Type: Hornbook Treatises
Description: This Hornbook, continuing the tradition of the Hemingway Hornbook with distinguished scholars, is the most comprehensive one-volume work on oil and gas law and taxation available today. For over three decades, Professor Richard Hemingway's prior editions of this seminal work provided guidance to courts, lawyers, commentators, and students. As a one-volume treatise, this work covers the substantive law of oil and gas and federal income taxation of oil and gas transactions. The first two chapters examine the mineral interest/estate and related transactions. The third chapter covers trespass and related issues. The fourth chapter covers adverse possession and dormant minerals. Chapters five through eight examine in detail the oil and gas lease. Chapter nine addresses transfers by the lessor and the lessee. Chapters ten through twelve are devoted to oil and gas taxation.