A Short & Happy Guide to Federal Income Taxation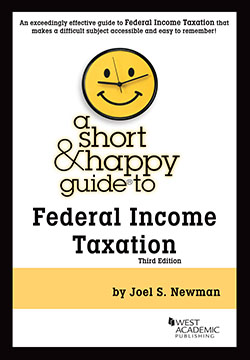 A Short & Happy Guide to Federal Income Taxation
Author: Newman, Joel S.
Edition: 3rd
Copyright Date: 2023
Publication Date:

October 4th, 2023

ISBN:

9798887863740

Subject: Taxation
Series: Short & Happy Guides
Type: Overviews
Description: A pleasant stroll through the thickets of the basic law school income tax course. Newman addresses all of the usual suspects, including income, deductions, capital gains, and timing. There are photos of narrow Amsterdam canal houses, an English building with bricked-up windows, and a short-tailed dog, to show how tax laws can change just about everything. Also, there is a photo of an outrageous ABBA costume, presumably deductible. Finally, there is a series of applications of basic tax principles to some of your favorite fairy tales.

The 3rd edition takes into account changes made by the 2017 Tax Cuts and Jobs Act, but assumes that everything which was put on hold by that legislation through 2025 will be fully back in force in 2026.