Products Liability in a Nutshell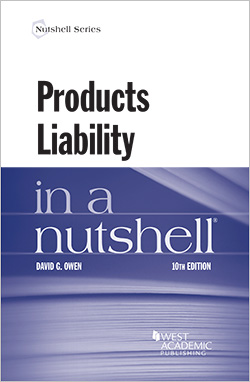 Products Liability in a Nutshell
Author: Owen, David G.
Edition: 10th
Copyright Date: 2023
Publication Date:

November 29th, 2022

ISBN:

9781647087159

Subject: Products Liability
Series: Nutshells
Type: Overviews
Description: This book provides an overview of products liability law, explaining its essential history, developments, policies, and tensions succinctly yet comprehensively. An abridgment of Professor Owen's acclaimed hornbook treatise, this short work examines classic and recent case and legislative developments in this field of law, including theories of liability; definitions and proof of product defects; standards for expert testimony; various features that mark the decline of strict liability; federal preemption and other defenses; and the Products Liability Restatement. Among many other topics, coverage includes claims against Amazon for "selling" defective third-party products, cases involving electronic and biologic products, and key features of automotive and pharmaceutical litigation.