Texas Government in a Nutshell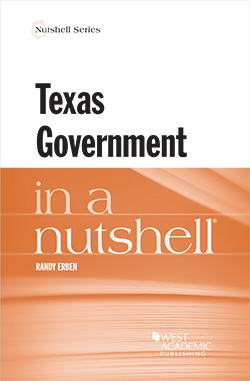 Texas Government in a Nutshell
Author: Erben, Randall H.
Edition: 1st
Copyright Date: 2023
Publication Date:

November 14th, 2022

ISBN:

9781685615024

Subject: Local Government
Series: Nutshells
Type: Overviews
Description: Texas Government in a Nutshell (1st ed. 2022) is a concise and thorough overview of the government of the State of Texas. It is a primer for anyone interested in Texas government and politics. The Nutshell uniquely provides a specific focus on the executive branch and its interaction with the other two branches of government. The Nutshell reviews and analyzes the powers and duties of each of the executive branch offices and examines how those powers are applied to real life situations. The Nutshell covers the constitutional and statutory powers of the Governor, Lieutenant Governor, Attorney General, Comptroller, and other officials and agencies. It explores the legislative process, separation of powers; the state budget; state agency regulations; appointments to boards and commissions; litigation; orders, proclamations, and opinions; and the inner workings that make Texas government function.