Mental Health Law in a Nutshell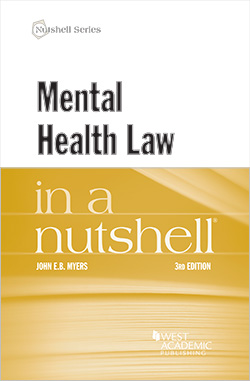 Mental Health Law in a Nutshell
Author: Myers, John E.B.
Edition: 3rd
Copyright Date: 2022
Publication Date:

April 28th, 2022

ISBN:

9781685610395

Subject: Health Law
Series: Nutshells
Type: Overviews
Description: Mental illness and intellectual disability (formerly called mental retardation) impact 20% of Americans, and have enormous personal, legal, and policy implications for patients, families, and society. This Nutshell introduces you to the broad range of criminal and civil issues in mental health law, including diagnosis of mental illness; expert testimony on mental health issues; civil commitment; competence to stand trial; the insanity defense; various competencies; ethical/legal issues facing mental health professionals, including informed consent, confidentiality, privilege, and malpractice; discrimination against persons with mental illness; financial and medical benefits for disabled persons.