Legislation and Statutory Interpretation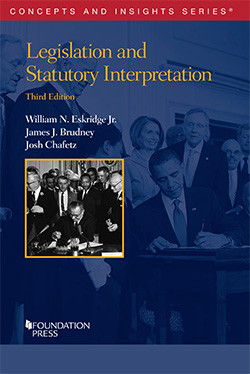 Legislation and Statutory Interpretation
Authors: Eskridge Jr., William N. / Brudney, James J. / Frickey, Philip P. / Chafetz, Josh / Garrett, Elizabeth
Edition: 3rd
Copyright Date: 2022
Publication Date:

November 8th, 2021

ISBN:

9781642421088

Subject: Legislation & Regulation
Series: Concepts and Insights
Type: Hornbook Treatises
Description: Suitable for students or practitioners, this authoritative overview of the legislative process and statutory interpretation moves smoothly and understandably between the theoretical and the practical. You'll find in-depth discussion of such topics as theories of legislation and representation, electoral and legislative structures, the role of text and precedent in statutory interpretation, substantive canons, legislative history, and agency interpretations. Reap the benefits of the authors' experience, opinions, and insight and gain a working knowledge of the area.