International Law Frameworks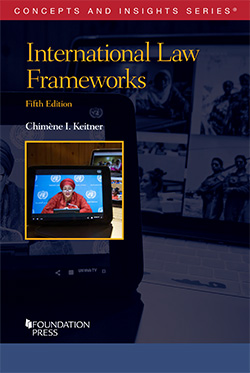 International Law Frameworks
Author: Keitner, Chimène
Edition: 5th
Copyright Date: 2021
Publication Date:

October 11th, 2021

ISBN:

9781647084417

Subject: International-Public
Series: Concepts and Insights
Type: Hornbook Treatises
Description: This fully updated, go-to treatise explores the historical evolution and contemporary operation of international law. Still direct and incisive, it offers an accessible and yet nuanced text for a variety of audiences, including university and law school students, practitioners, researchers, and others who want to know what international law is and what it does in the twenty-first century. The fifth edition weaves in-depth considerations of key cases, core disputes, and essential international agreements into a broad overview of all important aspects of the subject. Readers will find an authoritative discussion of traditional topics such as the sources of international law and the methods of international dispute resolution alongside consideration of pressing issues such as cross-border cyberattacks, climate change, and contemporary challenges to the international legal order. As a new feature, each chapter is followed by questions for discussion, in addition to up-to-date suggestions for further reading.