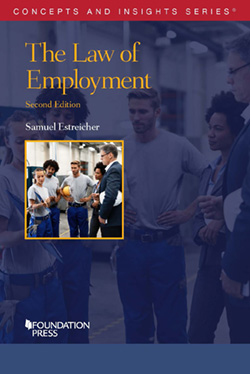 The Law of Employment
Author: Estreicher, Samuel
Edition: 2nd
Copyright Date: 2021
Publication Date:

July 27th, 2021

ISBN:

9781642427059

Subject: Employment Law
Series: Concepts and Insights
Type: Hornbook Treatises
Description: This textbook is a one-volume treatment of the basic analytical structure and legal policy issues informing U.S. employment law. The full range of the subject matter is examined with chapters on defining who are employees (as opposed to independent contractors); employment contracts; employment torts; workplace privacy; post-termination restraints and workplace intellectual property issues; employee benefits; wage-hour laws; occupational safety; workers' compensation; and unemployment compensation.

Introductory chapters are also included on the economic analysis of employment regulation, employment discrimination, union organization, and collective bargaining laws. The book is designed as a complement for all leading casebooks on employment law, in that it approaches the issues in a comprehensive manner that will enable the student to understand how these laws interact in particular cases. Unlike other employment law treatises, this book moves well beyond the descriptive to empower the student in tackling difficult analytical and policy issues in the field.