Gilbert Law Summaries on Corporations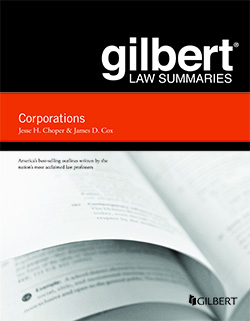 Gilbert Law Summaries on Corporations
Authors: Choper, Jesse H. / Cox, James D. / Eisenberg, Melvin A.
Edition: 17th
Copyright Date: 2021
Publication Date:

January 11th, 2021

ISBN:

9781647087593

Subject: Business Organizations
Series: Gilbert Law Summaries
Type: Outlines
Description: This outline clearly examines the full range of issues that arise in classes focused on business organizations. The central distinctions among business forms such as general and limited partnerships, limited liability corporations as well as close and public corporations. Both federal and state statutes that regulate the affairs of corporations are examined. The legal requirements for their formation, operation and management. Also includes shareholders' right to inspect records, shareholders' suits, capitalization, dividends, redemption of shares, fundamental changes in corporate structure, and applicable conflict of laws principles.

Contemporary practices and legal provisions addressing corporate governance are described. Special attention is given to the fiduciary obligations of owners and managers as well as the governance rights of shareholders. The materials provide detailed coverage of the federal provisions addressing proxy solicitations, insider trading, disclosure requirements and the scope of the anti-fraud provision Rule 10b-5. The outline provides comprehensive treatment of a wide range of mergers and acquisition issues including the procedural requirements to effect acquisitions, the fiduciary obligations to defend and transfer control, and the intricate case law surrounding self-dealing acquisitions.