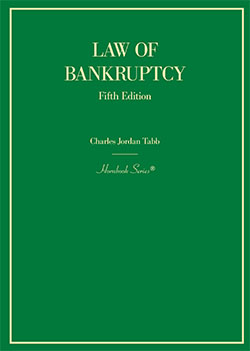 Law of Bankruptcy
Author: Tabb, Charles Jordan
Edition: 5th
Copyright Date: 2020
Publication Date:

October 22nd, 2020

ISBN:

9781642420630

Subject: Bankruptcy/Creditors' Rights
Series: Hornbooks
Type: Hornbook Treatises
Description: This comprehensive text provides an exhaustive analysis and discussion of every aspect of bankruptcy law, including an overview of bankruptcy; invoking bankruptcy relief (with a very detailed explanation of the means test); the automatic stay; jurisdiction and procedure; property of the estate; trustee's avoiding powers; payment of claims; executory contracts and unexpired leases; exemptions; discharge; reorganization under Chapter 11; debt adjustments under Chapter 13; debt adjustments under Chapter 12; and cross-border cases under Chapter 15. The 2005 BAPCPA amendments and the extensive case law thereunder are explained and critiqued. All legislation through the spring of 2020 is discussed, including the 2019 SBRA and the 2020 CARES Act. All relevant Supreme Court cases through the 2020 Term are discussed in depth.