Federal Income Taxation of Estates, Trusts, and Be...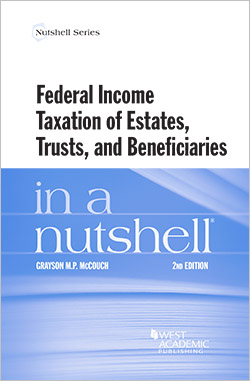 Federal Income Taxation of Estates, Trusts, and Beneficiaries in a Nutshell
Author: McCouch, Grayson M.P.
Edition: 2nd
Copyright Date: 2020
Publication Date:

February 24th, 2020

ISBN:

9781684674534

Subject: Taxation
Series: Nutshells
Type: Overviews
Description: This comprehensive guide can serve either as a course supplement or as a refresher for members of the bar. Expert commentary summarizes the law and offers critical perspectives on the federal income taxation of estates, trusts, and beneficiaries, including the decedent's final income tax return; classification of estates and trusts; income in respect of a decedent; distributable net income; simple and complex trusts; distributions; grantor trusts; charitable trusts; and foreign trusts. Additional chapters cover basic income, gift and estate tax concepts, accumulation distributions, and specially treated trusts.