Construction Law in a Nutshell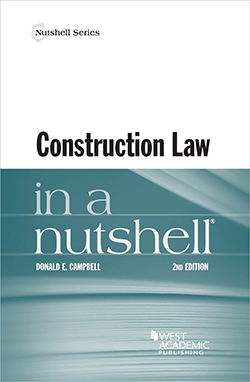 Construction Law in a Nutshell
Author: Campbell, Donald E.
Edition: 2nd
Copyright Date: 2019
Publication Date:

August 27th, 2019

ISBN:

9781684670307

Subject: Construction Law
Series: Nutshells
Type: Overviews
Description:

This book provides a comprehensive survey of the major legal issues that arise in the course of a construction project. The structure of the book first focuses on the major participants on a project and the relationships and interests of each of participant. It then shifts to chapters on recurring themes in construction law such as the economic loss rule, calculation of damages, and defective construction. While making the concepts accessible for any reader, the book provides a logical structure for those teaching construction law to use as either the primary or supplemental reading for the course. The second edition, in addition to adding new substantive material and case examples, is also updated to reference the 2017 revisions to the AIA construction documents.