Global Internet Law in a Nutshell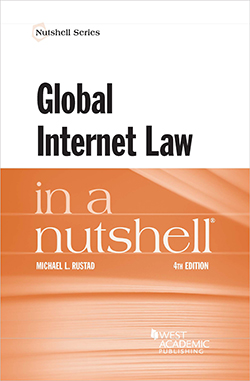 Global Internet Law in a Nutshell
Author: Rustad, Michael L.
Edition: 4th
Copyright Date: 2019
Publication Date:

August 5th, 2019

ISBN:

9781684671281

Subject: Internet Law
Series: Nutshells
Type: Overviews
Description: Global Internet Law in a Nutshell surveys the historical, technological, and cultural impacts of the Internet, applying multiple academic perspectives to the path of both U.S. and foreign cyberlaw. Subsequent chapters review the latest case law and statutory developments from the United States, European Union, China, and other countries governing the Internet. Internet-related issues for jurisdiction, contracts, consumer protection, torts, privacy, cybercrimes, content regulation, and each branch of intellectual property law are summarized. This Nutshell covers the major topics taught in Internet Law, Electronic Commerce Law, and Information Technology Law classes. Rapidly evolving topics such as the Internet of Things, Driverless Cars, Artificial Intelligence, the EU's General Data Protection Regulation, and Internet-related Intellectual Property Cases are highlighted.