Introduction to Estate Planning in a Nutshell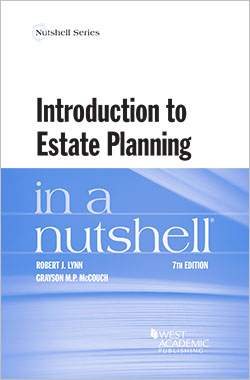 Introduction to Estate Planning in a Nutshell
Authors: Lynn, Robert J. / McCouch, Grayson M.P.
Edition: 7th
Copyright Date: 2019
Publication Date:

March 11th, 2019

ISBN:

9781642425987

Subject: Estate Planning
Series: Nutshells
Type: Overviews
Description: This Nutshell presents an introduction to basic concepts and techniques of estate planning. Subjects covered include transfers of property at death by will or intestacy; inter vivos gifts; survivor interests; revocable and irrevocable trusts; community property; life insurance; retirement, disability and death benefits; charitable trusts; future interests; fiduciary administration; and federal estate and gift taxes.