Historic Preservation Law in a Nutshell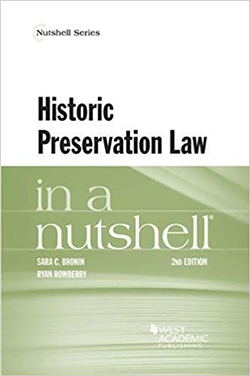 Historic Preservation Law in a Nutshell
Authors: Bronin, Sara C. / Rowberry, Ryan M.
Edition: 2nd
Copyright Date: 2018
Publication Date:

January 10th, 2018

ISBN:

9781640201569

Subject: Historic Preservation
Series: Nutshells
Type: Overviews
Description: Historic Preservation Law in a Nutshell provides the leading in-depth summary of historic preservation law within its local, state, tribal, federal, and international contexts. Historic preservation is a burgeoning area of law that includes aspects of property, land use, environmental, constitutional, cultural resources, international, and Native American law. This book covers the primary federal statutes, and many facets of state statutes, dealing with the protection and preservation of historic resources. It also includes key topics like the designation process, federal agency obligations, local regulation, takings and other constitutional concerns, and real estate development issues.

Click here to read a book review of the first edition from the National Trust for Historic Preservation.