A Short & Happy Guide to Business Contracts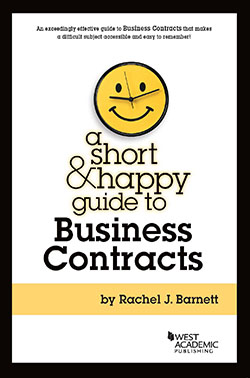 A Short & Happy Guide to Business Contracts
Author: Barnett, Rachel J.
Edition: 1st
Copyright Date: 2017
Publication Date:

August 30th, 2017

ISBN:

9781640200722

Subject: Contracts
Series: Short & Happy Guides
Type: Overviews
Description: Let's get to the point. We have all signed contracts without really understanding what was written on the paper. However, there is no reason to be intimidated by fancy legal language as anyone can master common terms found in nearly all business contracts.

Written by an experienced lawyer, the Short & Happy Guide to Business Contracts explains everyday contract terms and makes them easy to understand. This book is the first of its kind to reveal exactly how practitioners review and mark up contracts from start to finish. Short & Happy does not bore you with legal theory, but rather focuses on understanding how contracts are negotiated in the real world.

This guide covers topics including payment terms, limitations of liability, representations and warranties, indemnification, term and termination, confidentiality (NDAs), data security and privacy, as well as many others. Short & Happy contains a simple roadmap to negotiate terms and avoid common pitfalls like an experienced practitioner.