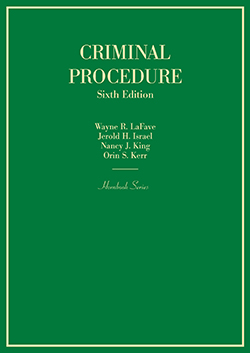 Criminal Procedure
Authors: LaFave, Wayne R. / Israel, Jerold H. / King, Nancy J. / Kerr, Orin S.
Edition: 6th
Copyright Date: 2017
Publication Date:

December 12th, 2016

ISBN:

9781634603065

Subject: Criminal Procedure
Series: Hornbooks
Type: Hornbook Treatises
Description: This title analyzes the law governing all major steps in the criminal justice process, beginning with investigation and ending with post-appeal collateral attacks. All major themes are covered, with emphasis upon those basic issues deemed most significant in the case law and literature. Because of their special importance, leading Supreme Court opinions are given in-depth treatment. All Hornbook sections are cross-referenced to comparable sections of the authors' 7-volume Criminal Procedure treatise (readily available on Westlaw database CRIMPROC) containing more detailed analysis and citations to additional supporting authorities.