A Short & Happy Guide to Bankruptcy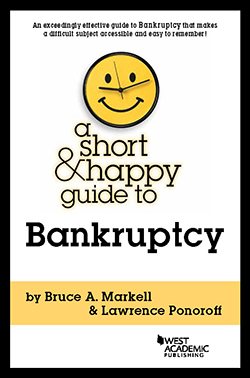 A Short & Happy Guide to Bankruptcy
Authors: Markell, Bruce A. / Ponoroff, Lawrence
Edition: 1st
Copyright Date: 2016
Publication Date:

January 12th, 2016

ISBN:

9781634594936

Subject: Bankruptcy/Creditors' Rights
Series: Short & Happy Guides
Type: Overviews
Description: Bankruptcy is a complicated subject that covers a lot of ground. Bankruptcy lawyers can be found on Main Street and Wall Street. This efficient and effective guide to Bankruptcy will help you see the big picture. The authors focus on explaining the key concepts or building blocks that apply in any type of bankruptcy case, and then help you see those concepts in action in cases under the different chapters of the Bankruptcy Code, in proceedings ranging from individual consumer debtors in Chapter 7 or 13 to Fortune 500 Corporations in Chapter 11. To make the learning process more bearable, the authors have also infused the book with humor. Each of the authors is nationally-renowned law teacher who has practiced and taught Bankruptcy for many years. One of them is even a former bankruptcy judge. Based on that experience, in this book they have set forth understandable techniques for mastering the law governing bankruptcy law, procedure, and real-world practice (in an exceedingly attractive manner).