Agency, Partnerships and LLCs, 2d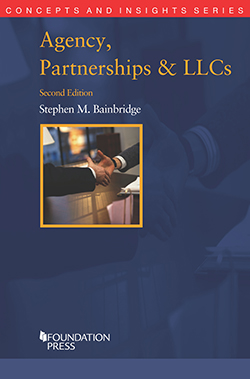 Agency, Partnerships and LLCs, 2d
Author: Bainbridge, Stephen M.
Edition: 2nd
Copyright Date: 2014
Publication Date:

March 25th, 2014

ISBN:

9781609304669

Subject: Agency and Partnership
Series: Concepts and Insights
Type: Hornbook Treatises
Description:

This text provides a reader-friendly, accessible overview of unincorporated business associations. While emphasizing the doctrinal issues taught in today's unincorporated business associations classes, it places significant emphasis on economic analysis of the major issues in that course. The second edition has been comprehensively updated. It includes extensive new treatment of the now final Restatement (Third) of Agency and amendments to the various uniform acts governing unincorporated business associations. The coverage has been expanded to include additional topics, especially in the chapter on limited liability companies, so as to reflect their continually growing popularity as a choice of form for small businesses. Among these new topics are single member LLCs, shelf LLCs, conversion to an LLC from other forms of business organizations, promoters' duties, non-profit and low profit LLCs, and freedom of contract in LLC law.