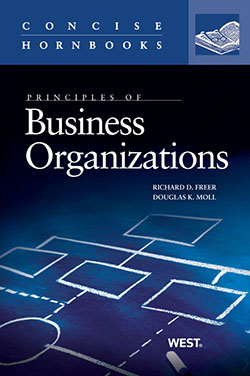 Business Organizations
Authors: Freer, Richard D. / Moll, Douglas K.
Edition: 1st
Copyright Date: 2013
Publication Date:

February 21st, 2013

ISBN:

9780314181336

Subject: Business Organizations
Series: Concise Hornbook Series
Type: Hornbook Treatises
Description: The study of business organizations is, broadly speaking, a study of how people engage in business and, more importantly, how the law facilitates and regulates the operation of such businesses. Written in a clear and informative style, and chock full of examples and illustrations, Freer and Moll's Business Organizations examines the legal rules and doctrines associated with running a business – from formation to dissolution to everything in between. These rules and doctrines are explored within the context of the various organizational forms in which a business may be operated. Thus, reading this book will provide you with a solid grounding in the law of agency, general partnerships, corporations, limited partnerships, limited liability partnerships, and limited liability companies.